Please- come in! I thought I'd take you on a mini tour of our Bay garden. Grab your comfy shoes and stay awhile. You'll meet Bella in a few minutes.
After two months of consistently cool and rainy weather, we have almost caught up to the normal blooming schedule, thanks to the 90 degree temperatures and sunshine, with occasional storms moving through. I don't know about your neck of the woods, but we have been totally invaded by mosquitoes. I'm talking about the five-bites-in-one-minute kind at dusk. Saturday night. !
These are Red Charm peonies and, no, they have not been touched up in Photoshop. The sun from behind made them almost glow. The true color of the flower is closest to the middle bloom- intensely red.
Actually, right now we are in between the perennials' flushes of blooms. This week we caught the last of the peonies. You can never have enough of them! Their season can be cut short if the temps go too high, which they did. Did you know you can extend their season after cutting them? If you
cut them in bud
, process them (cut stems under water, immediately place them into a bucket of water that goes half way up the stem with
no foliage below the water line
) and let them drink the water for a few hours, then you can "dry store" them in the cooler (refrigerator) wrapped in newspaper for a week or two. When you remove them, cut the stems again before placing in the vase.
The foxgloves are now bloomed out...
and the chives and peonies, too.
I love the color of campanula.
Here is a spare lantana topiary that we keep for emergency replacement for Pieter's clients' plantings. It is such a happy flower. Oxalis is the purple/burgundy foliage at its base.
One of the most fun parts of the garden to us is mixing the colors and textures of the foliage. It keeps the garden interesting even when there are no blooms. Below is a cut-leaf Japanese maple that we keep pruned very low at the edge of the deck, sitting next to a wonderful hosta.
And, finally, we have a pepper! I think it will be a while before any veggies are harvested though.
The one who enjoys our garden the most is Bella, our Standard Schnauzer who just turned two years old. The yard is her kingdom. And she loves the sprinkler even more than the yard!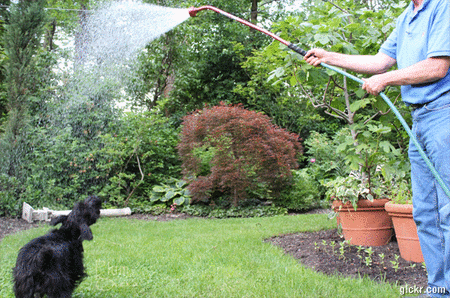 OK- your turn! I'd love to visit your gardens as well.